This post contains affiliate links which earn me a small commission at no additional cost to you. I only recommend products that I personally use and love.
COCONUT CURRY LENTIL DHAL
Hey guys 🙂
I wanted to make a coconut curry lentil dhal from the time I went vegan because I kept seeing those delicious-looking pictures that would make my mouth water every time. I don't know why I have waited this long, it is honestly so good and easy to make! The coconut milk makes it super creamy and comforting. If you are like me and you love the taste of curry and coconut together, I highly recommend that you try this recipe out.
In India, "dhal" refers to legumes like lentils. It is traditionally prepared with Indian lentils called chana dal, that look like split peas. If you can't find those where you live, you can easily substitute them with red lentils for example. But you have to know that the texture won't be exactly the same – unlike chana dal that stay a bit crunchy after cooking, red lentils turn into a thick puree.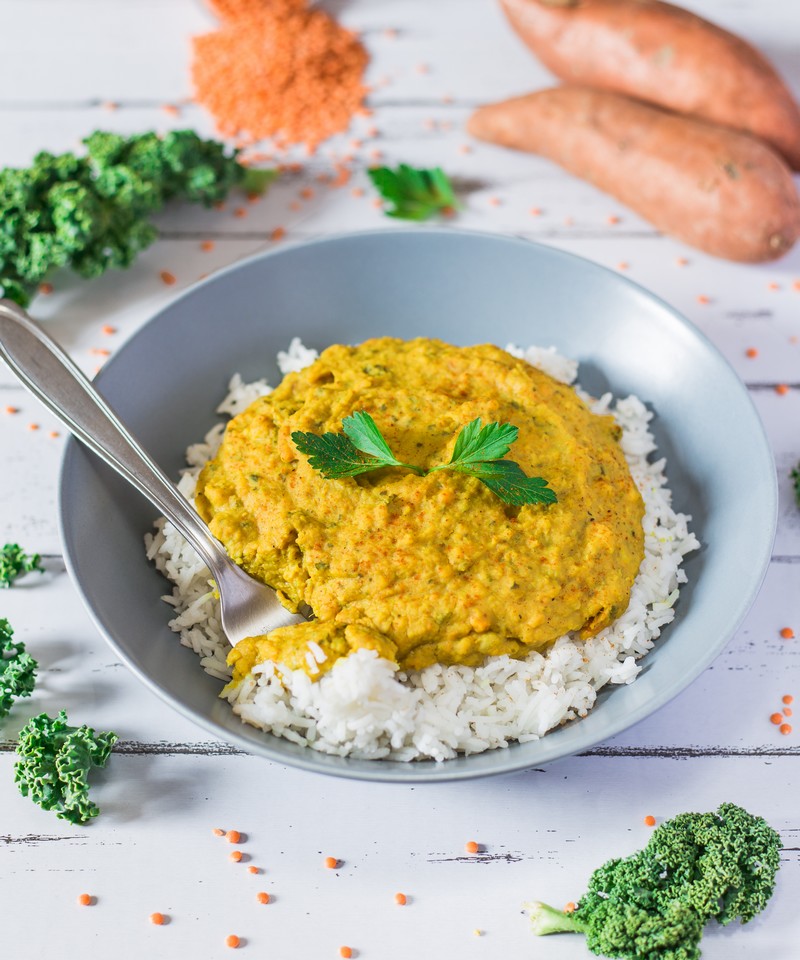 This dish keeps well in the fridge and can be enjoyed either hot or cold. If you have leftover dhal, you can place it in a lunch box and take it with you to work. You may need to add a small amount of water to thin it out a little because it tends to thicken when cooling down.
Enjoy the recipe! If you like it, don't forget to tag me on Instagram (@bloomingnolwenn), I would love to see your recreations 🙂
Red Lentil Dhal
Ingredients
400

g

sweet potato

2

handfuls

kale

400

g

red lentils

- dry weight

750-800

ml

water

400

ml (1 can)

full fat coconut milk

2

cloves of garlic

1

onion

2-3

tbsp

curry powder

1

small piece

fresh ginger

salt and pepper to taste
Instructions
Chop the garlic, onion and fresh ginger and place them in a saucepan with a splash of water. Cook for 5 minutes.

Add in the lentils and curry powder and sauté for 2 minutes.


Add in the water and coconut milk.


Dice the sweet potato, chop the kale and add them to the saucepan.


Bring to a boil, then lower the heat to medium and put the lid on.


Simmer for 15 minutes or until lentils and vegetables are cooked.


Serve over basmati rice and enjoy 🙂

Feel free to pin the following photo on Pinterest: